Winter Break Update from a Summer Intern
I just finished up the first semester of my third year at UVA and, after being home for a couple days, of course I had to return to Synergy Technical. I interned here this past summer working with the Marketing team before starting my first semester at the McIntire School of Commerce. At McIntire, all third-year students go through the ICE (Integrated Core Experience) program that teaches a variety of business skills through seven different subjects. Throughout the semester, we work in small teams as consultants to design a product or service proposal for a corporate sponsor and then present to executives from that company at the end (kind of like The Apprentice).
Being able to work at Synergy Technical and experience both the Marketing and IT sides of the company before starting my classes was a great opportunity, and a lot of what I learned over the summer prepared me for this school year.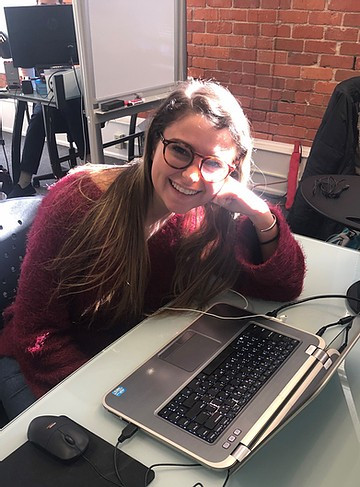 Here are three things I learned this semester:
In my Systems class, we focused on process modeling and how to use Business Process Model and Notation (BPMN) on Microsoft Visio to analyze and redesign business processes to improve efficiency and customer satisfaction. We discussed how knowledge of information systems and technology is one of the best ways for businesses to successfully operate and compete. I mean, that's really the core of what Synergy Technical does for its clients.

I'm glad I got to do a lot of work on Excel last summer, because after taking Quantitative Analysis I'm kind of a pro (almost). Although it was a struggle to follow along at first due to our professor teaching by calling out keyboard functions when 95% of the class didn't use PCs or have a CTRL key… I think I finally got the hang of it. If anyone needs someone to run a Monte Carlo simulation or nonlinear regression to forecast revenues or market share—I've got you.

I discovered that Marketing is my favorite class which in large part was due to my amazing and hilarious professor. She went over strategies, channels, and theories of marketing that connected with a lot of what I did here at Synergy Technical over the summer. We discussed customer relationship management marketing (CRM), something I worked on last summer using Microsoft Dynamics 365. A lot of my responsibilities included organizing our CRM database to ensure the best communication with our clients and potential customers and analyzing data from engagements to determine leads. We also discussed event marketing, which takes me back to when I had the chance to participate in a Productivity CIE. This type of marketing is a great educational opportunity for prospective clients to learn what Synergy Technical does and how it can help their business and team dynamics (and eat free food!).
While this semester demanded a lot from me, including a 50-page report, a six-day/seven-subject take home final, and so much group work that Google Maps thinks the Comm School building is my home, I am so thankful that interning at Synergy Technical gave me a great head start and experience. So glad to be back and see everyone again!