Winner of Microsoft 20/20 M365 Security Deployment Partner of the Year
For Immediate Release Feb 24, 2020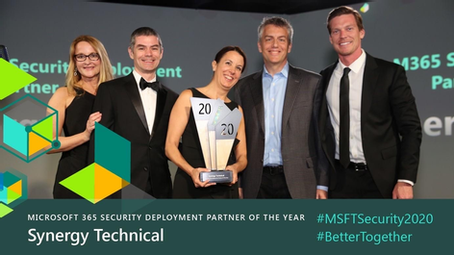 RICHMOND, Virginia, USA — Feb 24, 2020 — Synergy Technical today announced it has been named a Microsoft Security 20/20 award winner for the M365 Security Deployment Partner of the Year category. The company was honored among a global field of top Microsoft partners for demonstrating excellence in innovation, integration, and customer implementation with Microsoft technology.
"We're so excited to receive this award from Microsoft," says Rohana Meade, President and CEO of Synergy Technical. "Our team prides itself on being one of the best in the business in deploying Microsoft 365 security solutions, it's great to receive this kind of acknowledgement from Microsoft."
At the inaugural Microsoft Security 20/20 partner awards, held February 23, we announced award winners in 16 categories that span security integration partners, system integrators and managed security service providers. Synergy Technical is a winner for Microsoft Security 20/20 M365 Security Deployment Partner of the Year award.
"Solving our mutual customers' security challenges is very much a team sport," said Andrew Conway, General Manager, Security Product Marketing, Microsoft
Corp. "We are pleased to recognize these leaders in the ecosystem at Microsoft's inaugural security awards."
Only through collaborations can organizations help customers get clarity and become more secure. The security ecosystem must work together to create a vision for the future where people, information, and companies are made safer. Microsoft Security 20/20 provides an opportunity to honor Microsoft partners that have developed and delivered exceptional Microsoft-based solutions and services during the past year.
About Synergy Technical:
Synergy Technical is a professional services firm that delivers comprehensive solutions that meet the needs of today's highly connected and interactive organizations. Founded in 2011, our team has been successfully implementing cloud solutions globally since the beginning of the cloud era. Our product offerings include information technology consulting services, managed technology services, strategy and assessment services, cloud deployment services, as well as a full range of product licensing and hardware solutions.
---
Would you like to find out more about us? Learn more about how began our cloud journey.