Hanging out with the future of STEM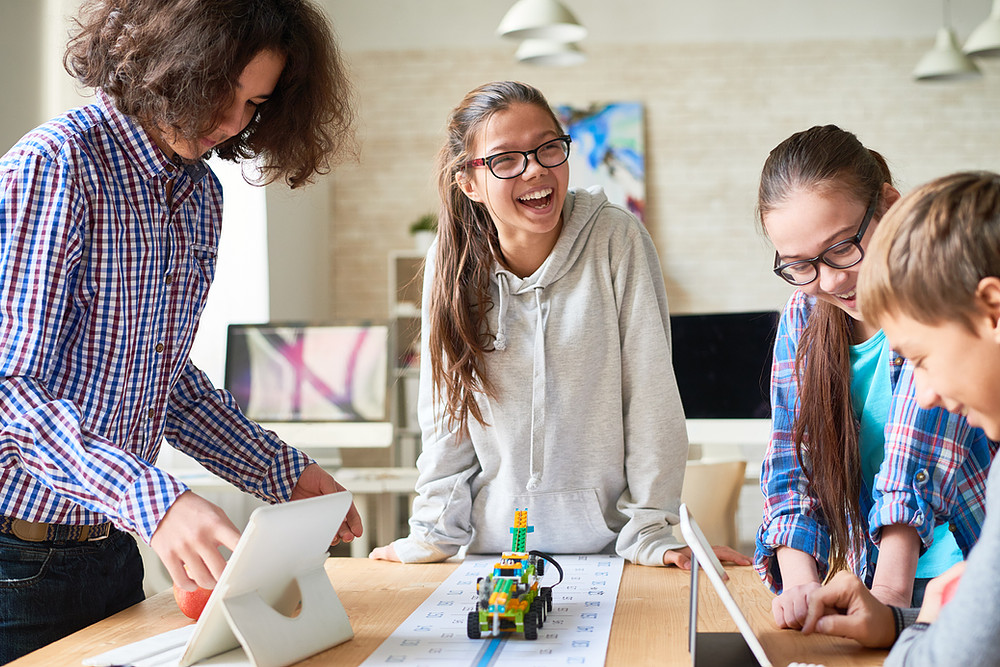 Last week, I had the pleasure of visiting the Chesterfield Technical Center with our CEO, Rohana Meade. We were at CTC to discuss technology with a summer school IT class of adolescent tech enthusiasts. According to Carol Guerin, the CTC Oracle Academy Instructor, this summer camp is a new recruiting tool the organization implemented last year to generate interest in technology and development at an earlier age.
The challenges that lie ahead in STEM
Unfortunately, today more students are dropping out of STEM programs than completing them. Research shows that close to sixty percent of the nation's students that begin high school with an interest in STEM change their minds by graduation. On the bright side, student interest in STEM has been gradually climbing over the last ten years. The problem lies in keeping those students attracted to the subjects. Reasons for high drop-out rates include a lack of proficiency in science and math, and significant race and gender gaps. To encourage more students to pursue STEM disciplines, communities have begun implementing new K-12 education standards in science and math, creating specialized STEM high schools, and partnering with educators and businesses to address skills gaps.
The CTC class is a combination of Oracle Programming with SQL and Web Design. The idea is to give the students a taste of what the real high school classes are like in the hope of recruiting them as students in their Junior or Senior year. If a student chooses to enroll in the high school course, he or she is also offered an internship in the field with local participating technology organizations. Synergy Technical has participated in the high school internship program for several years.
The session started with a discussion of Ro's background in technology. This was followed by a discussion with the students about their interest in technology and how they wanted to use it in the future. Most, unsurprisingly at their young age, wanted to be game developers. However, I was impressed with one (of only two) girls in the class saying she wanted to be a programmer.
Disruptive Technology
To relate Synergy Technical's mission and service offerings to what the students were learning, Ro introduced the concept of Disruptive Technology. Disruptive Technology is basically one that displaces an established technology and shakes up the industry, or a ground-breaking technological product that creates a completely new industry. Ro and the students talked about how cloud computing was a recent disruptive technology that had substantially change how businesses managed their information technology assets. Synergy Technical was founded on the premise that the cloud would completely shift the way businesses operate, changing how IT was managed all over the globe.
To illustrate how Disruptive Technology is changing the world today in a way the students could enjoy, Ro demonstrated the mixed reality created by a HoloLens device. A HoloLens device is essentially a holographic computer built into a headset that lets you see, hear, and interact with holograms within any given environment. I loved watching the kids try on the headset and experiment with placing holograms. Each student was given the chance to play an interactive robot game that was simultaneously broadcast on a projector for the rest of us to see. I, having never used a HoloLens, was shocked by the true three-dimensionality of the device.
After everyone had a chance to try the HoloLens, Ro asked the class to brainstorm the potential benefits virtual and mixed reality can have on society. At first, the students focused on video game and weapon potential. However, applying the device more holistically expanded answers to include educational purposes like medical school training, NASA exploration, and engineering.
As excitement builds for self-driving cars, innovated AI devices, 3-D printing, and holographic phones, it's important to remember the benefits Disruptive Technology could give society outside the commercial spectrum. Ro used today's experience to raise the questions what if? What else? And what could be? regarding the future potential of the Cloud and Disruptive Technologies alike. The kids at Chesterfield Technical Center are the technology innovators of the future – we're excited to see what amazing technology their generation creates.