Levi Stockard III Leads Synergy Technical's Community Outreach Efforts
Synergy Technical launches official Community Outreach Program and hires VCU Men's Basketball player, Levi Stockard III, to lead community engagement efforts.
"The goal of this program was simple. We wanted to do more in the community, and we knew we had the capability and the means to do so. I knew that what we needed was to create a full-time role for community engagement and find someone with a passion for this type of work. Levi is just that person." – Rohana Meade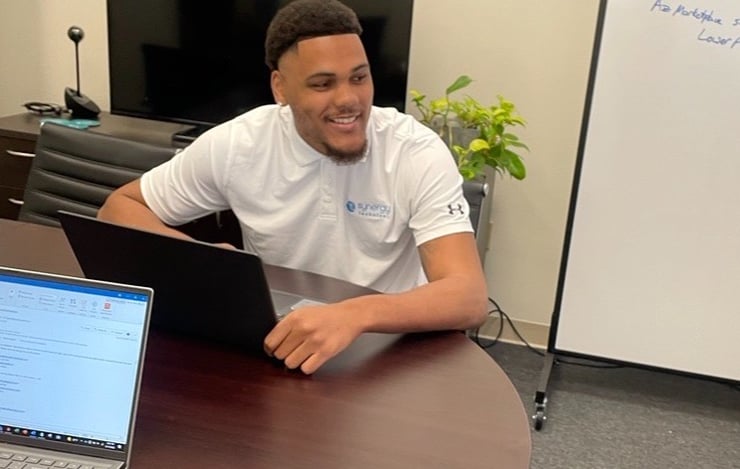 Meet Levi Stockard III: star and recent alumna from the VCU Men's Basketball Team. Levi was a key player in helping Synergy Technical manage the logistics and day-of coordination for all the volunteer efforts with the VCU Men's Basketball players conducted last season. Levi is working on his master's program at VCU and the timing couldn't be better. When told about the company's plans for the community outreach program, Levi was immediately on board to take on a full-time position to lead those outreach efforts.
We asked Levi a two simple questions: Why do you think this program is important? What's the impact on visiting kids or individuals with special needs in the community?
"The reality is simple: there really aren't any words to describe the impact programs like this one have on the community and these individuals they serve. Just to see these program participants faces when we walked through the door each visit warmed my heart so much. Each visit came full circle for me because it took me back to those special moments when I was a kid, and someone was that figure for me. Knowing I now had the opportunity to be that for them was indescribable…truly nothing short of amazing.
One of my favorite parts of doing events in the community comes from the people outside the experience themselves. I could say over and over how much my experience with these individuals means to me, but it truly hits home when others approach you after the fact with stories of how far your impact went in the community. I love hearing stories like these because you can get so wrapped up in the moment that you don't see the effects right away or how far they can truly go.
I'm so grateful to Synergy Technical for giving me the opportunity to volunteer at the kickstart of this outreach program last year, and now bring my experience to the table as a full-time employee to lead the community engagement efforts. I've personally witnessed how far our volunteer efforts have been felt throughout Richmond so far and plan to find even more opportunities and expand our efforts to new people and new communities.
Being involved in the community is especially important to me because I can relate to so many of the kids and have childhood experience with some of the community programs we work with today. I also have a lot of experience volunteering with organizations that support individuals with special needs. I believe we owe it to ourselves and others to strive to be the best version of ourselves every day, and I feel like the best version of myself when I'm with our program participants. I want to be a positive role model in their lives, and I want them to see me – because in many cases, I look like them, I used to be one of them. Seeing someone who looks like you, came from a similar background, knows what your life is like and the hardships you face… they need to see someone bettering themselves to show that the same opportunity is always possible. One of the biggest problems that some of these children face is that they think they're so limited in what they can achieve. If by sharing my story can change that mindset in just one child, I'll be satisfied, and I'll continue to strive to do it one hundred times over." - Levi Stockard
---
Would you like to find out more about us? Learn more about how we began our cloud journey.