Fight against food insecurity for local families
Synergy Technical Donates to Local Charity Feed More
RICHMOND, Virginia, USA — Feb17, 2021 — Synergy Technical made a donation of $10,000 to local charity Feed More, a non-profit that is dedicated to ending food insecurity for Central Virginians in need.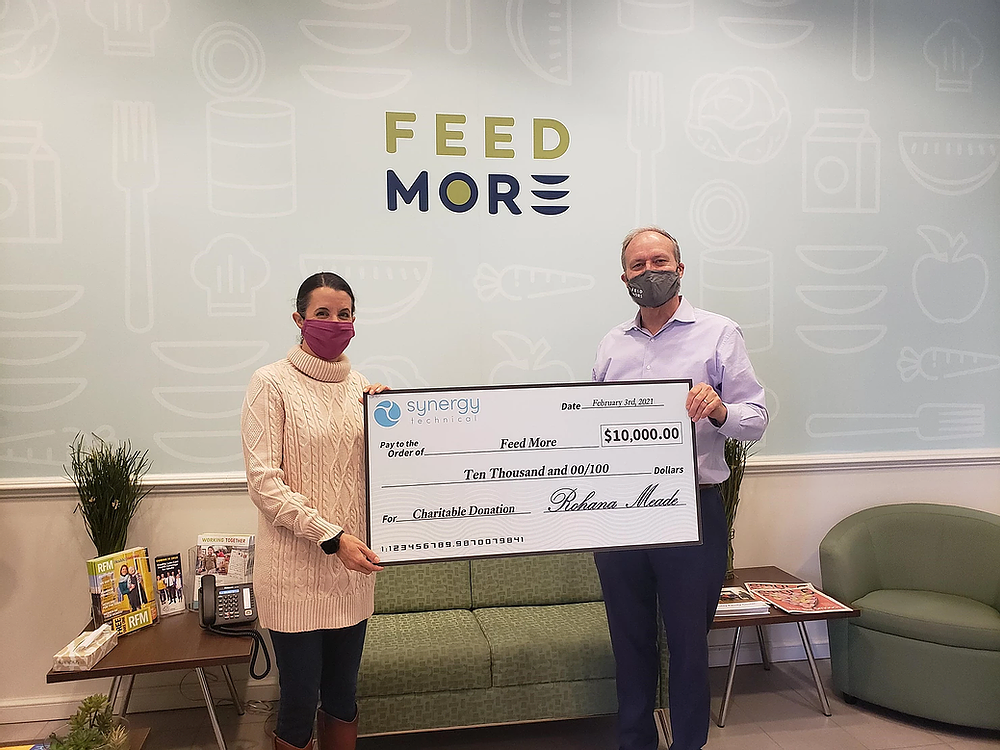 (Pictured above are CEO of Synergy Technical, Rohana Meade, and Feed More's Chief Development Officer Jeff Wilklow).
"Food insecurity is a real problem in Central Virginia. 1 in 5 Central Virginia children, up from 1 in 7, do not know where their next meal is coming from. I'm thrilled that Synergy Technical is able to provide support to Feed More in their efforts to ensure that every family that needs a meal is served. No child should go hungry", says Rohana Meade, CEO of Synergy Technical.
Synergy Technical looks forward to future collaboration and volunteer efforts with Feed More and encourage others to participate as, together, we work to end hunger.
"Synergy Technical's gift helps us provide 40,000 meals to our neighbors in need. That alone is significant, but the fact that Synergy Technical wants to join us long-term to fight food insecurity is so encouraging," remarked Jeff Wilklow, Chief Development Officer of Feed More.
To learn more about Feed More's programs and how to give help or get help, visit FeedMore.org.
About Synergy Technical:
Synergy Technical is a professional services firm headquartered in Richmond, VA that delivers comprehensive solutions that meet the needs of today's highly connected and interactive organizations. Founded in 2011, our team has been successfully implementing cloud solutions globally since the beginning of the cloud era. Our product offerings include information technology consulting services, managed technology services, strategy and assessment services, cloud deployment services, as well as a full range of product licensing and hardware solutions.
About Feed More:
Feed More collects, prepares and distributes food to neighbors in need throughout Central Virginia. With a service area that stretches across 34 counties and cities, Feed More's comprehensive programs and network of over 270 agencies helps ensure our communities have access to healthy meals. Feed More is a proud member of Feeding America and Meals on Wheels America. For additional information, please visit FeedMore.org, find us on Facebook and follow us on Instagram and Twitter.